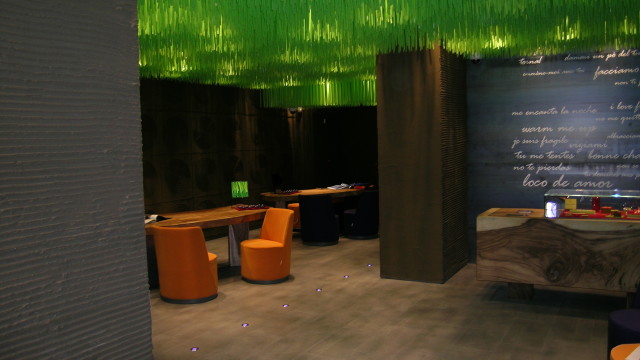 Jewellery shop DoDo, Firenze
Design: Paola Navone
Client: studio Otto
Location: Firenze
Chronology: 2008
Start-up del nuovo progetto degli shop DoDo, marchio del gruppo Pomellato. L'intervento parte dal "basic design" per svolgersi attraverso l'esecuzione dei lavori: messa a punto dei requisiti dei prodotti da utilizzare, sviluppo dell'apparato di disegni esecutivi, prototipazione di componenti ed arredi, pronto riscontro e coordinamento delle diverse attività. Tutto questo ha portato alla minuziosa messa a punto del progetto e all'apertura dei primi due esercizi dell'azienda. Lo stretto coordinamento fra i professionisti coinvolti e l'apporto di know-how specifici, hanno permesso il raggiungimento del risultato estetico che ha dato corpo alla visione del progettista.
L'alta qualità delle realizzazioni è stata assicurata da un contatto costante e un dialogo serrato con la progettista e la Direzione Artistica di Pomellato.
Firenze e Bergamo i due progetti portati a compimento.
---
For DoDo, a Pomellato's jewellery brand name, we carried out the setting up and fitting of the company's newer venues in Firenze and Bergamo.
We took care of the whole venture, beginning with drawings and blueprints – in line with local norms and on the basis of functional creativity. As from our professional vision, we endeavored to combine inventive design with up to date technical expertise, concern for safety and schedule planning. Aiming to fully meet all the obligations of our undertaking and following step by step the work in process, we made a point to mind even the smallest details to fulfill the project concept and create a comfortable working environment.
In keep with a vocation for quality, our team ensured coherence, efficiency and optimal costs throughout. From site survey and analysis, to scouting for materials, finding suppliers, holding meetings with the client's representatives, overseeing each and every stage of the construction phase, and advising on finishing furniture arrangements.