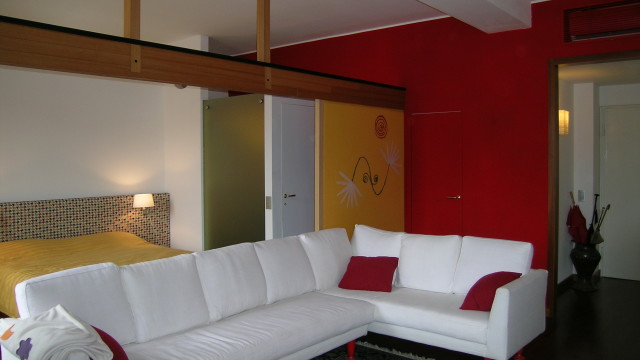 Private apartment and studio, Milano
Client: Private
Location: Milano/Porta Vittoria
Chronology: 2008
Un unico spazio in cui radunare le differenti necessità, tenuto assieme dal deciso cromatismo della parete che si contrappone a quella delle finestre.
Ben delimitata l'area di preparazione dei cibi, separata da una parete mobile la zona notte: Il bagno si allarga in questo spazio con un minuto volume. Lo studio fisicamente e acusticamente ben separato è ammorbidito con legno e tessuti selezionati per motivi decorativi e consistenza tattile.
---
A loft becomes the frame for arranging both the working and the living areas, all around the axis of a chromatically laden partition, set in relation to the wall where windows are placed. The kitchen area is clearly marked by sliding partition, which opens onto the bedroom area. In this section the restroom finds its bay, notwithstanding the tiny available space. In the working area, carefully separated from all the rest – both physically and acoustically – the natural wood furnishings and the carefully selected textiles create a soft atmosphere.