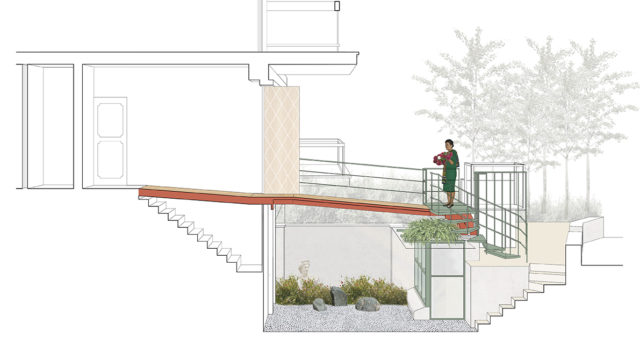 Private apartment, Roma – Colli della Farnesina
Location: Roma, Colli della Farnesina
Chronology: October 2020
Accesso e interni appartamento
L'intervento collega l'accesso dalla strada direttamente alla quota dell'appartamento costruendo una leggera passerella in acciaio. Un podio affrancato su una muratura esistente origina lo slancio. E' un muro ciò che rimane di un volume precedentemente un volume precedentemente scavato per dare luce all'accesso dal piano inferiore: il resto diventa giardino minerale. Viene riconfigurata la parte interna, più opaca dell'appartamento, oltre al rifacimento di tutti gli impianti.
---
Pedestrian bridge and apartment interiors
Street access and interior remake direct access from the street to the main entrance of the apartment is provided trough a light bodied, steel walkway. This cross over juts out from a rise of a wall, which is all that remain of a previous below ground extent, a volume dug up to invite light in, to be turned now into a mineral garden all around. The set up of the interior space is reconfigured in its partless exposed to the light, while all the utility elements and feature are remade and brought up to standard.