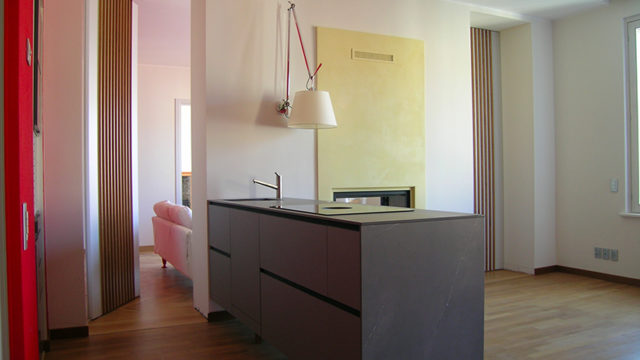 Apartment extension and renovation, Milano
Client: Private
Location: Milano/Porta Vittoria
Chronology: October 2019
Apartment extension and renovation.
L'intervento amplia e riconfigura l'appartamento. Il camino diventa fulcro assieme ai due varchi che mettono in comunicazione la parte esistente, con quella recente. Soggiorno, area studio e lettura. La preparazione e cottura dei cibi, a vista dell'area pranzo, è smaterializzata in una credenza. Ampie porte vetrate collegano queste area centrale a quelle più interne e di servizio.
---
Apartment extension and renovation
Renovation and enlargement: an overall redesign of spaces affords the enlargement of this home unit, bringing at its very corethe fireplace. Along with the two lateral passages connecting the older section of the flat to the new one. A frame of thus created for a living room leeway, a studio gap and a reading area. While in a plain sight in the living room lot, the kitchen bar and the stoves seem to fade over as a sideboard cabinet. Large glass doors connect this central area to the ramaining ones, customized for service purposes.